I'm a solitary eclectic, that much bemoaned classification that makes practitioners of 'traditional witch craft' scoff and/or roll their eyes. I do not affiliate with any specific tradition or coven, I tend to practice on my own, celebrating the seasons and lunar phases with spells and rituals based on my learning and experience but infused with deeply personal meanings. I speak words from my own heart and invite the divine in ways unique to me. May times I sit down to spell work with only a vague idea of how I will be accomplishing my goals; I just let the magick of intuition guide the magick of my intent.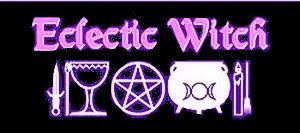 Not being a 'traditional witch' I can only assume the reason for the typical dismissive reactions is that one could use the term 'solitary eclectic' to mean simply 'I do what I feel is right' and I have even shared this frustration when speaking to some people that self identify as I do... because to just 'do what feels right' takes away from the depth of my personal faith and personal praxis.
I take my faith very seriously and have studied it for over ten years now. I have read multiple books about various types of nature based religions. I have attended conferences and workshops presented by a multitude of traditions/faiths/paths. I have participated and/or observed rituals and services of multiple faiths. I engage people in conversation about their personal faith on a regular basis. I have taken structured classes and less than structured classes but more than all of that I follow my Goddess and try to live as She bids me. It's really all any of us can do.