Update 12/17/2011: This giveaway is now closed.
So I was wandering around the Trade Teams on Etsy and was struck with the awesomeness of these:
Only in the EXTRA awesomeness of Tiger's Eye centers. I had to own them and the amazing creative goddess behind these lovelies agreed. I can honestly say they're even more pretty in person.
Jessica Hoeye
from
Jewelry By Jesse
was a lovely trading partner and a maven of natural materials. Using stones, metals, pearls and shells she uses instead of plastic, really bring her creations to life in a way that is as refreshing as it is beautiful.
I had the pleasure of interviewing Jesse and am happy to share with you!
Read down to the bottom for a chance to win your very own pair of Silver Star Semi-Precious Stone earrings.
Me: Is there a special place your creative inspirations comes from?
Jesse:
When I first read the question my answer was No. But that's silly since everyone gets inspiration from somewhere. Honestly I get inspiration from every where. The environment, my family even what's going on during that day, but really I think a majority of my inspiration comes from the stones and beads themselves. They speak to me at the shops I buy them at or I get this feeling like I NEED them. After that, it's not unusual for them to lay around on my desk for a week or a month by my computer, or on the dining room table, a shelf or somewhere that is inconvenient to my husband :) Finally I'll look at them and say, I need to take your downstairs. Once they have made it to the dark and dank pit that is my 110 year old basement I separate them into their little storage containers and stare at them for awhile longer. Finally something in my head clicks and I go "AH HA!" and I start laying out different beads in a design that just popped into my head. Some are great successes, others have a life of about a year as a piece of jewelry and then end up back in the basement, torn apart and made into something else.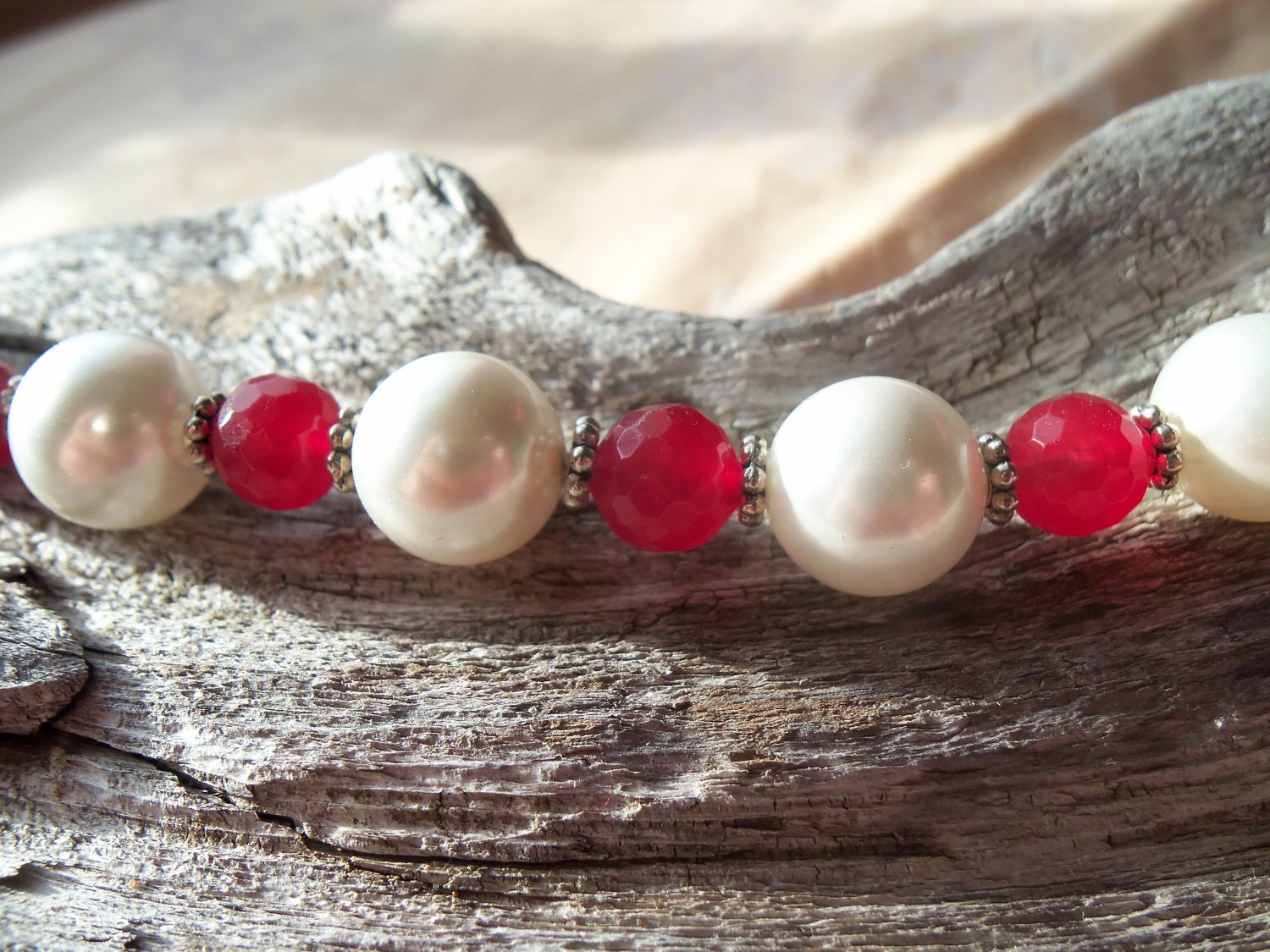 Me: How does your religion impact your creativity?
Jesse:
About 40% of the time I'd say that my pagan beliefs drive me to make jewelry that has a purpose behind it. I make pendants with stones to promote clarity, or prosperity or what ever property the stones have. I think today I'm going to make a bracelet, necklace so on that has properties of "X" and I do that. Then 30% of the time my western/horse riding background kicks in and I make large chunky jewelry for horse people that want a lot of bling, either for the show ring or for going out. The other 30% of the time my eclectic, artist side says... "oooo, this is pretty and this color goes with this color and I think I'll toss in some silver or maybe copper... Yeah... I like that." and voila! I have a piece of jewelry.
Me: What's your favorite part of the etsy selling experience?
Jesse:
Ha ha ha, This one made me laugh because the first answer that popped into my head was simple. I don't have to set up or tear down at a craft show. I don't have to leave my house, my jammies, anything. I can sit at my computer and no one cares if I've showered yet that morning, or if I smell a bit like the barn that night. I don't have to do my hair or put on make-up to sell on etsy. It's awesome! Not to mention the fact that I can sell my jewelry to people all over the world. I just made my first international order this week to Finland. I was SO excited that my site is reaching that far.
Take a moment to visit Jesse and learn more about this vivacious and spirited artisan here:
Etsy Shop:
http://www.etsy.com/shop/jewelrybyjesse
Blog:
http://jewelrybyjesse.blogspot.com
/
Facebook Group:
www.facebook.com/groups/119465081469152/
GIVEAWAY: How to Enter to win your very own pair of AWESOME adventurine star earrings...
Mandatory Entry
: Visit Jesse's shop at
http://www.etsy.com/shop/jewelrybyjesse
and browse around then come back here and leave a comment about your favorite item. Please note you must be or become a follower of this blog to be eligible to win. Please make sure you include a way to contact you if you win.
Extra Entries
: Please leave one separate comment for each entry:
+1 entry – follow Jesse's blog These are the Random Days of My Life publicly through GFC
+1 entry – Add JewelryByJesse to your favorites on Etsy (include user-name in your comment)
+1 entry (once per day) – mention this giveaway on twitter or facebook (comment with the link, and tag @EmKatCreations)
+3 entry – blog about this giveaway (please comment with the link)
+5 entry – make a purchase from JewerlyByJesse (include transaction link in your comment)
+1 entry – follow me (EmKatCreations) on twitter (include user-name in your comment)
This giveaway ends in two weeks at midnight on 16th Dec. 2011 . Open to followers WorldWide!
Winner will be chosen by online random generator. The Winner will be notified by email and has three days to reply or another winner will be chosen.
Good Luck everyone!!