So there I was wandering around the trade teams of
etsy
... again and I found myself in lust with a pair of deep red earrings and also a pair that are this amazing blue shade that defies description! I messaged the lovely seller,
Vivian
, and she was so enamored of my use of the word 'lust' she agreed I should own these fantastic earrings. I recently ran across her shop,
The Crown Jewels Goddess
, again, contacted the craft-mistress and she agreed to be interviewed (awesome!) and also to sponsor a giveaway for all my lovely readers (even better!).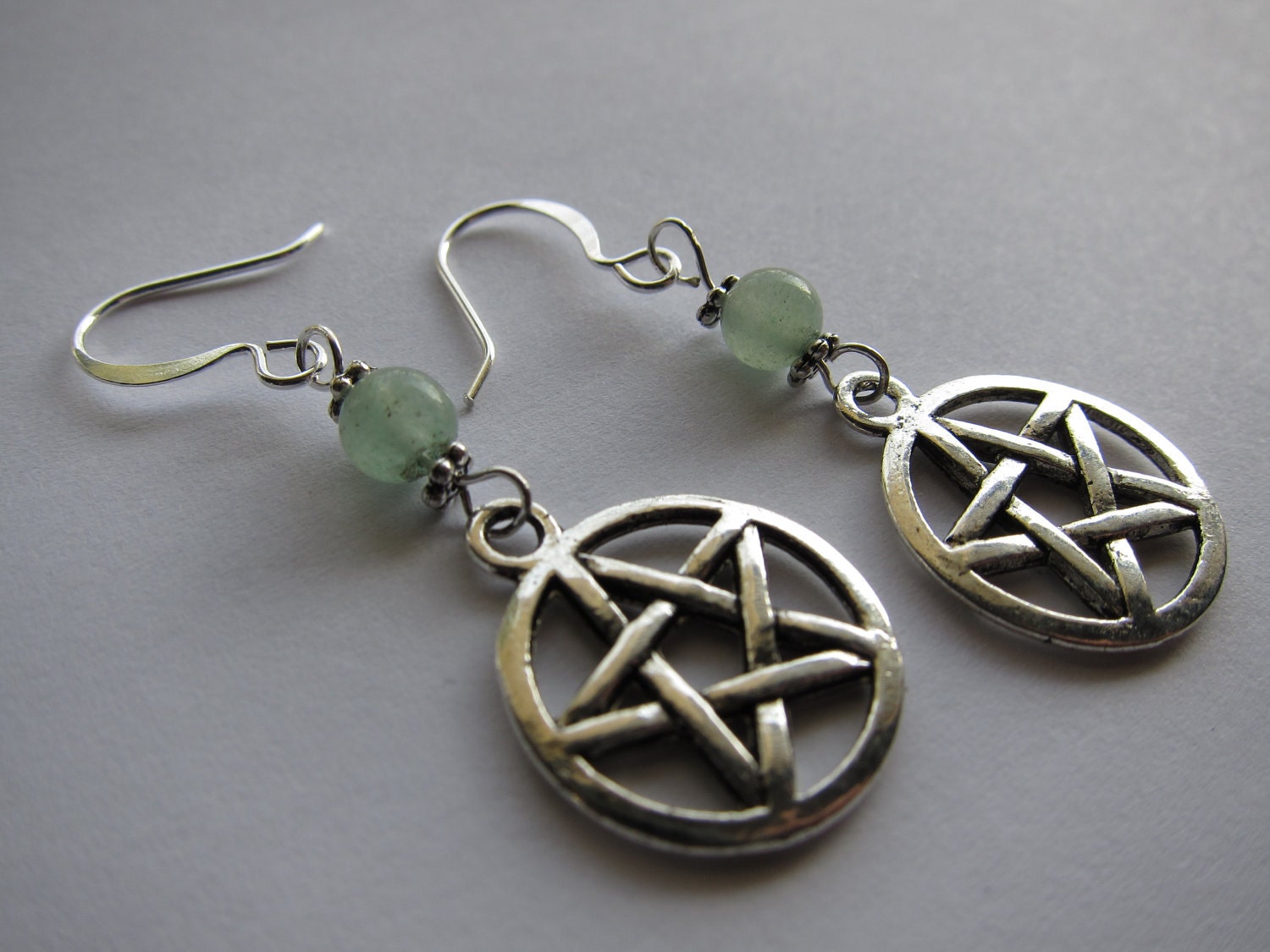 Read through the feature and then enter to win these beautiful Pentacle earrings with jade using the form below.
What's your inspiration?
Vivian:
I am highly inspired to take on a beadwork project when it has to do with gemstones and crystals -I just go crazy and a little overboard with the materials I buy sometimes that I have to do something with them! I especially love at the end that I have created a beautiful masterpiece.
What's your favorite thing about the etsy selling experience?
Vivian:
I'm sure most everyone would say that the best experience is when an item gets sold! The next best thing is how much appreciation goes into some of the items I make, I love getting all the compliments and how etsy users take the time help promote each other.
Which piece in your shop has the most meaning for you?
Vivian:
I make these lovely pentagram earrings, it's just a simple set of earrings that does not take long to make but the symbol of the pentagram is very powerful and meaningful indeed.
Which piece is your favorite to make?
Vivian:
I love making beaded bracelets and pendants, but mostly beaded cuffs. I'm always looking for new patterns and challenges to make and will also occasionally make a gift for my friends and family to give. I love their reaction when they get something I have made.
What's your favorite mythical animal and why?
Vivian:
Dragons! When I was in grade school I used to be obsessed with reading fantasy books about medieval times, kings and queens, dragons and castles! I was always doing some sort of art work on unicorns, dragons and other animals.
As a working mom, how do you find time for etsy?
Vivian:
I work overnights in retail as an assistant store manager four nights a week. On my days off, I try to sleep until mid afternoon so that I am up when my daughter comes home from school and do my mommy duties until she goes to bed. I take the time during the night to do my craft and other etsy stuff.
Enter Below:
a Rafflecopter giveaway
This giveaway ends in two weeks at midnight on 16th March 2012 . Open WorldWide!
The Winner will be notified by email and has three days to reply or another winner will be chosen.
***Please note that I received no form of monetary compensation for this post. The opinions expressed in this review are my own and were not influenced in any way. Please note that I am not responsible for the delivery of this prize and can not be held accountable if, for any reason, is it not received. Furthermore, I am in no way liable for any injuries that may result from the use or misuse of this product. **